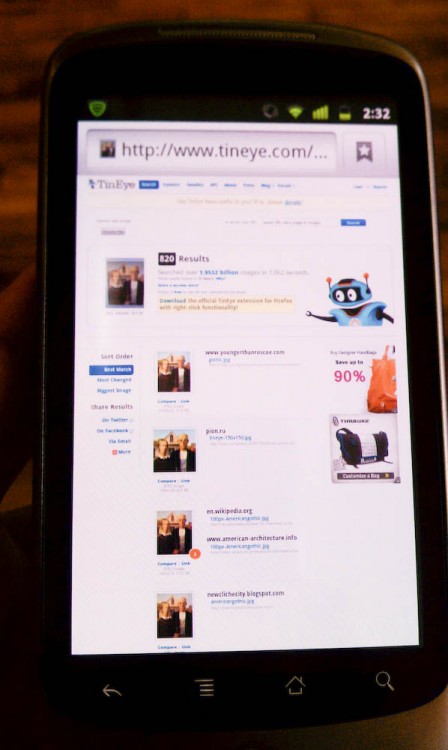 I am sure that if you are like us, you have been dreaming of a TinEye android application for quite some time now. Our beta release today won't really help you unless – like us – you are a Nexus One user! If you are, well, rejoice: the TinEye Android Beta is here. It is a rough beta as we are just getting it out to do some testing. It is not ready for prime time. It may or may not work. It may or  may not crash your phone. But when it works, well… it is magic. We actually just built it for ourselves but we don't mind sharing.
Have you ever run across a photograph in a magazine, on a poster or on those giant advertising billboards at the airport and wondered where it came from? or who shot it? Now you can simply whip out your Nexus One, snap a photo and get your TinEye results (if we have them!).
So what you need to know:
TinEye Android Beta searches the current TinEye index when you perform a search. There are a number of things you should be aware of:
Do not install it if you are using a Samsung Galaxy S! It will hard crash your device and you will need to remove your battery to restart it.
It does not work well with rotated images. You need to take your photograph in portrait mode and avoid rotations/skewed shots.
It only works with Android v2.1 and later. And has only been tested on the HTC Nexus One running Android v2.3.3 and the HTC Evo running Android v2.1-update1 and v2.2.
How to install the TinEye Android Beta:
On your phone go to Settings > Applications.
Enable "Unknown Sources" This is required because during the beta, the app is not being installed from the Android Market Place.
Go to the browser downloads, either from the Android pull down menu or by going to the phone browser menu > more > downloads, and click on TinEye.apk to install the app
After the app is installed, be sure to disable Unknown Sources.
We would appreciate your feedback so that we can work on the next release. So please let us know of any bugs or drop us a line to send us some hugs! We are already working on a number of improvements including:
Options to use the camera zoom and flash
The option to upload an image from your phone image gallery
The option to log into your TinEye account from the app
Using the camera in landscape mode.
To uninstall the app:
Go to Settings > Applications > Manage Applications > TinEye
Choose Force Stop if the button is enabled
Choose Uninstall
Enjoy!
UPDATE: MAY 31/2011. Thanks TinEye fans for your testing and feedback. Much appreciated. We now have a new release Version 1.1 which includes a bug fix where the photo taken with a phone camera was uploaded to TinEye in landscape mode instead of portrait mode in some phones. This release also works on the following devices:
HTC Desire HD 2.2.1
HTC Desire 2.2
HTC Nexus One 2.2-2.3.4
HTC Evo v2.1-update and 2.2
LG GT540 CyanogenMod7
Milestone CyanogenMod7 2.3.3
Motorola Droid 2.3.3
As always we would love to hear from you! Say hi!