As you know, reverse searches on TinEye are free for non-commercial use, and that means it is free for people like you and me who need to perform the occasional reverse image searches. But what if your use is a commercial use, say you work for a corporation, or are in need of high volume reverse searches and would still like to perform reverse image searches in a snap and without any integration? Well, we haven't forgotten about you. We have a commercial TinEye browser extension that is user friendly and can be used for high volume searching. Every TinEye API account gives you the option to perform searches via our special TinEye browser extension for commercial use. No programming experience? No problem! This extension works the same way the free TinEye extension works. The difference is: you're able to perform more searches!
Licensing our TinEye API for large volume reverse image searching is incredibly efficient, but that requires the ability to integrate an API. Today, our TinEye API is used by clients in a number of innovative ways including copyright compliance, profile image verification, image moderation, brand monitoring and more. The TinEye API can be easily integrated with any of our clients' environments but the reverse searching can be done in two ways:
via the API or,
using our API's browser extension.
This blog post will focus on the simplest method of performing searches: via our TinEye API browser extension. Below, you'll see a step-by-step guide to performing high volume image searching via the TinEye API extension.
1. Sign up
Learn more about high volume image searching on the TinEye API product page. We offer a range of high volume search bundles to fit your needs. Bundles expire after all your searches are exhausted, or after two years; whichever comes first. You can purchase a single search bundle to start and replenish your search account as necessary.
Pick a search bundle that fits your needs, then click Sign up and complete the sign up form.

Once you've completed the signup process, you will receive an email, prompting you to confirm your email address.
2. Confirm your email
Check your inbox for a confirmation email from TinEye. If you don't see the email in your inbox, don't fret! Sometimes these emails end up in your spam or junk folder. Click on the link provided, or copy and paste it into your browser to confirm your email address.
3. Login
You will be asked to log in with the email and password that you just used to sign up.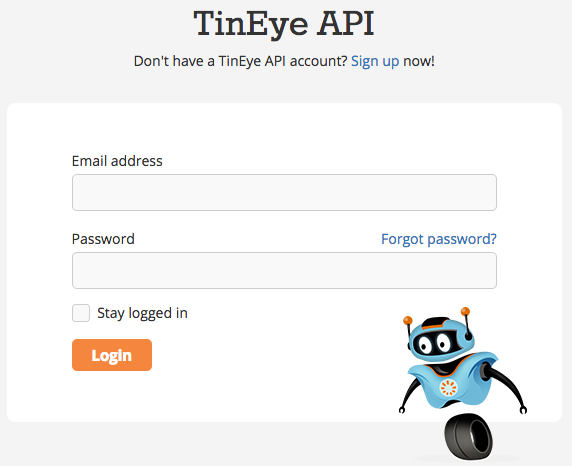 Once you're logged in, you'll land on the Welcome page. There's some useful information here to help get you started. You can get back to this page from wherever you are on the site by going to Welcome (but you need to be logged in!).
4. Buy Searches

Before you can start searching, you'll need to buy a search bundle (you have to be logged in for this).  Transactions are handled via PayPal or credit cards. You can purchase search bundles via credit card even if you don't have a PayPal account.

After you're done, you'll be directed back to your account overview page, which will show what you just purchased and keep you updated on how much of your bundle has been used.
5. Use the TinEye browser extension
To install the browser extension, go to the Welcome page and select the API extension for your browser – we only offer extensions for Firefox and Chrome browsers at this time.
Note: The browser extensions for the regular, free version of TinEye found at TinEye.com/extensions will not work with your TinEye API account. You must install the API versions to perform searches that will work with your prepaid search bundle. Don't worry, you can have both the free and commercial versions installed at the same time!
Once the plugin is installed, you're all set! Just right click on an image or page and select the "Search on Commercial API" option.
6. Upload an image or search by  URL

You can also search the Commercial API through a web interface, just as you would normally do on TinEye.com. Click on the Search tab to get started (you'll have to be logged in to your account). Upload an image from your local drive to search for it, or point to a web image or web page by pasting the URL.
Happy image searching!