(There's a new version of this blog post, available here)
---
If you have dropped by the new TinEye site, you will have noticed our new interface and since we are on an update binge, we thought our new fans could use a little TinEye tutorial. So let's go! Here's a brief guide, showing you how to use TinEye for all your reverse image search needs.
In this post, we will cover the essentials:
Reverse image search using the website;
Search via the browser extensions;
Filter and sort search results;
Compare results to the original image.
Searching using the TinEye website
You can perform reverse image searches on TinEye via three methods: Search by uploading an image, by URL and by using our drag and drop feature.
To search by upload (i.e. search for an image on the device you're using), just click the upload button (blue arrow in a circle) to locate the image that you would like to search for.
To search by URL, you can insert a page URL or an image URL. Just paste the address of the page or image that you would like to search.

This is an example of an image URL
And this is an example of a page URL: https://commons.wikimedia.org/wiki/Commons:Featured_pictures/Astronomy
You can also paste a whole domain URL: https://blog.tineye.com
Please Note: If you search for a page or domain URL that contains more than one image, TinEye will ask you which image it is that you want to search for. Just click on the one you want.
And you can also use the TinEye drag and drop feature – drag a web image from a tab in your browser and drop it in a browser tab where TinEye is open.
Image search via the TinEye browser extension
We have also developed TinEye extensions for all the browsers our fans use. We have an extension for Firefox, Safari, Opera, Chrome and Internet Explorer. We also have a bookmarklet that will work with any JavaScript-enabled browser and any operating system.
The TinEye extension lets you search for any web image, by simply right-clicking on it. This won't work with images on your device – it will only work for images in a web browser.
Using the bookmarklet, you can grab all the images from a page and lets you search for any one of them by clicking on it.
Filter and sort image search results
TinEye's search results page has made it easier for you to sort through potentially millions of images and filter search results to show you desired images.
Sorting TinEye Image Search results
Best Match: This is the default sort option and shows the images that are closest to your original image, at the top of the page.
Most Changed: This filters results to show the images that are the most transformed from your original image first (i.e. the images that have been edited the most heavily).
Biggest Image: This shows you the highest-resolution version of the image in your search results first.
Newest: This sort order displays the images most recently found by TinEye's web-crawlers at the top.
Oldest: This sort order shows the earliest crawled images, at the top of the page.
Filter your results to show image matches by image collection.
"Image Collections" are a grouping of images we crawled from the web. These collections of images are of interest to our users, because they help them identify the creator of an image, the copyright holder or simply tell them if an image they are searching for is a stock photograph.
Use the "Filter by collection" option to determine if an image is a stock photograph, or if versions of the images exist in major online image sources like Wikimedia, DeviantArt and more. Click on a collection, to filter the results.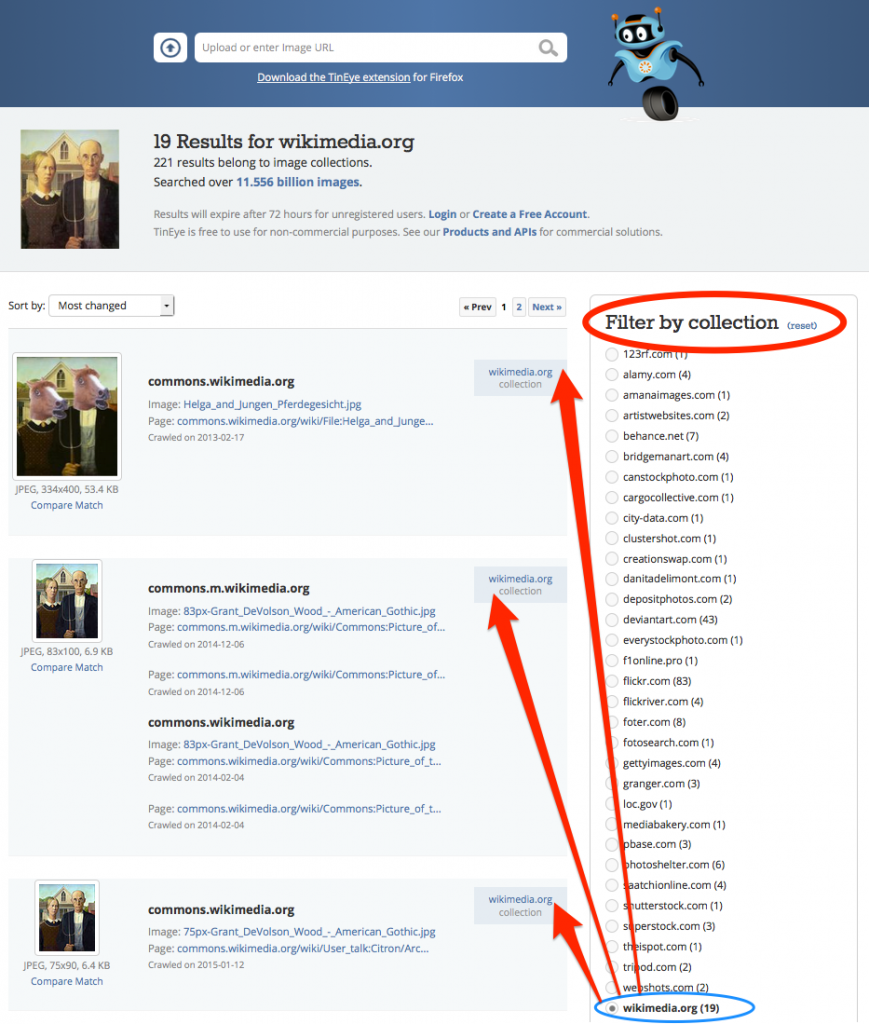 Compare results to the original image
Our TinEye 'Compare' feature lets you quickly switch back and forth between your result image and the original image.
This highlights any differences between the two images, making changes easier to see. It's especially useful if you've sorted results by 'Most Changed' and your image matches have been cropped, resized, skewed or Photoshopped.
Whew! Now you know all you need to be a champion TinEye user. Now get out there and put those skills to use!
Got something to say? We would love to hear your feedback.
Happy searching, folks!