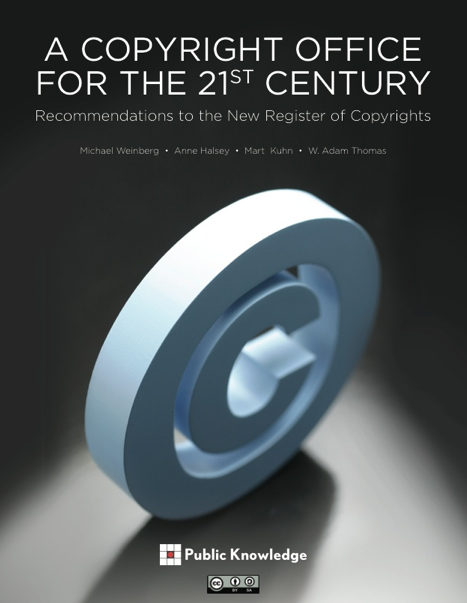 I am looking forward to seeing some of the copyright reform recommendations rolled out soon. If like me, you have tried to use the search functions to find copyright information for a photograph or any works, you know what I mean. You  – like most of the Copyright Office users probably still have forehead bruises resulting from your head hitting a nearby concrete wall (or handy hard surface).
On all seriousness: it is about time to bring the Copyright Office forward. So if you are in Washington, join us for an afternoon conference: Toward a Copyright Office for the 21st Century, a Public Knowledge Conference discussing the future of the Copyright Office. This conference will build off of the ideas put forth in Public Knowledge's recent whitepaper, "A Copyright Office for the 21st Century: Recommendations to the New Register of Copyrights".
This is incredibly timely as the Librarian of Congress will be appointing the first new Register of Copyright since 1994. The new Register will be the first appointed in the Internet era, and will have an opportunity to shape the Copyright Office for the 21st Century.
I am excited to be joining the conversation and participating in a panel presentation this afternoon along side:
Tracey Armstrong, President and CEO, Copyright Clearance Center
James Cavanaugh, National Director and Treasurer, American Society of Media Photographers
Jule Sigall, Associate General Counsel – Copyright, Microsoft
Respondent: Maria Pallante, Acting Register of Copyrights
Moderator: Michael Weinberg, Public Knowledge
With the advances made in image search and image recognition based search, perhaps the next Copyright Office Database is simply the web!