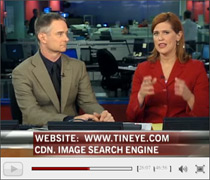 We were excited when Canada's only all business specialty channel, the Business News Network (BNN), picked up the TinEye story and featured it on After Hours May 6th.
We were even more excited when they asked us back to do another segment! Leila Boujnane, our CEO, was in studio with Kim Parlee and Andrew Bell on Friday, May 9th to talk about TinEye and the exciting things happening at Idée!
You can watch the five minute segment on Business News Network or pop by our website, we'll have the link for you in the Press and Events section. Fast forward to 41:20 for the piece.