Last night we hosted a little event here at the idéeplex to share the latest toy we are working on. We were lucky to have a great group of folks from the Toronto tech community join us to 'kick the tires' of our soon-to-be-released beta app for iPhone.
Thanks to everyone who came by and made the night a smashing success. It was really exciting for the team here at Idée to see TinEye Music, the first iPhone application of our visual search technology, out the door for beta testing.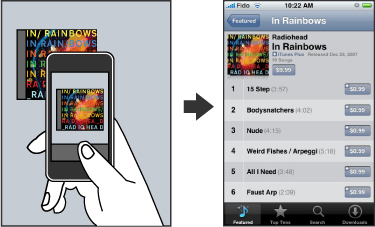 With TinEye Music you use your iPhone to take a photo of any album cover. Almost instantly that snapshot gets compared to our index of over a million album covers and the app sends you right to the iTunes page for that artist where you can preview songs, buy tracks or even purchase the entire album right from your iPhone.
You can learn more about our app by watching our quick little video or reading today's posts by Mathew Ingram and Adam Schwabe. Jevon from StartupNorth beat all of us all to the punch, however, with his TinEye Music review posted during the party.
On top of the great conversations and lots of music searching with our TinEye iPhone app, we also did a little "sleevefacing" last night. If you aren't familiar with the term "sleeveface", take a look at some of our guests demonstrating it here and here. Amber MacArthur channelled her inner J.Lo, Libin Pan did his best Steve Jobs pose and Jen Dodd rocked on as Nina Hagen (Jen, you win sleeveface of the night, we'll send you your prize!). It was a lively night for all.
We have a ton of photos to share. For even more, Ben Lucier has shots of the party over on Flickr and photographer Rannie Turingan posted lots of great pics too.
This photo Rannie took of Jevon performing "the TinEye maneuver" with his iPhone is one of my favourites, followed closely by Alice's snapshot of the other Beta at the party last night.
Well, the fun might be over but the work is not. This is just the beginning of bringing visual search to the world of mobile technology and we have a lot more in store for you, stay tuned!
** Photo: Jevon strikes a pose – Rannie Turingan