Our beta image search engine, TinEye, has been adopted by folks from across the photography sphere. On Flickr, deviantART, Digital Photography Review and so many other forums we're hearing great stories about how you are using TinEye and what you think of our search engine. And not to forget our blogger friends! We read all your posts, your first impressions, your image discoveries (check out Maurits search below) and all of your suggestions.
So what's the word out on our image search engine?
From Steve Paxton, Paxton Prints [Make sure you swing by Steve's photo gallery, his photos are lovely!]: Imagine how helpful this can be in keeping track of who is using or linking to your photographs online! I have been using TinEye for a few weeks and love it! I have been surprised at how effective it is – even in beta.
Ah except Steve: we have indexed a little more than 700,000 images; our index is actually a 700 million image index!
John Peterson, on dpreview.com
This could be an amazing development for the lone artist – the "little guy" to finally have some say over his own intellectual property.
From the Online Visual Artists Community:
No metadata or keywords. Amazing technology. — James
I love the idea of this technology. It's pretty impressive. — Edward
Wow! The potential is just awesome. — Sarah
Lori from OffTopic Photography suggests "If you publish or share your images on the web you owe it to yourself to check out TinEye. It's like a search engine for images, but even better." Thanks for the great review, Lori!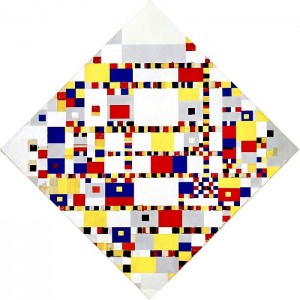 "True image searching has finally arrived, it's called TinEye and it's from Canada's Idée." states Maurits, who has one very nifty TinEye search on his blog today.
We would love to see your snaps from museums or art galleries, think you can beat Maurits' TinEye search? Take a photo with a well known piece of art and let us know if you find it on TinEye! We'll post the photos on the blog. Happy searching!
Image: Piet Mondrian, Victory Boogie Woogie