We not-so-quietly launched our internet-wide image search engine codenamed TinEye to our private beta testers today.
TinEye does for images what Google does for text.
Just as you are familiar with entering text in Google to find web pages that contain that text, using TinEye, you enter an image to find pages where that particular image (and modified versions of it) appears.
It's a big step for us because our algorithms are now thousands of times more efficient than they were just a few years back. Uploading an image, and looking for matches in an index of over 487,000,000 images in real time is now a possibility. It's something we've dreamed of doing for a long time, and now our beta testers are all over it.
Here are some of our favourite search results. The top image is the query image, and beneath it is the results.
Search Image

Results



Search Image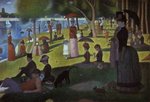 Results




Search Image

Results