TinEye fan Jeff left us a quick note to let us know that he spied TinEye in action over on Digg. The post in question – Awesome Spaghetti Junction, what city is this? – included the image below and the simple question:
What city is this?
How can you find out more about an image such as this one when the image is all you have? Simple. Use TinEye.com. TinEye is the only search engine able to find your exact image in over a billion images crawled from the web.
Digg user ka9dgx used TinEye to find the image in a National Geographic Traveler story about Bangkok, Thailand. TinEye also located the original image titled "The Veins of Bangkok" on Flickr, just one of the 26 different instances of this image found on the web.
And who took this shot? Trey Ratcliff, a part-time photographer that I first learned about back in August when I wrote this post about Copyright and Creative Commons. You can see more of Trey's amazing images by visiting his blog Stuck in Customs.
Click the image below to try the TinEye search yourself and discovery where else Trey's image has travelled online. Still need to get your TinEye account? Grab one here.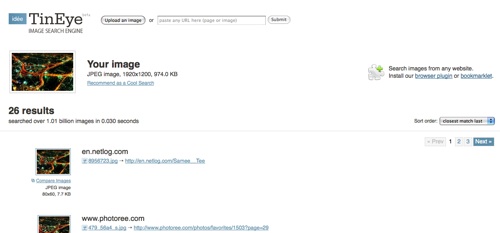 Image: Trey Ratcliff