Attention iPhone, Blackberry and smartphone junkies! Did you know that you can easily use TinEye to search for images you come across while browsing the web on your phone? Yep, all you need to do is install the TinEye bookmarklet. A bookmarklet is a little script that can be saved as an ordinary bookmark. The TinEye bookmarklet scrapes all of the images from the page you are viewing and sends them to TinEye.
Below is a little walk-through on how to install and use the TinEye bookmarklet on a mobile device, using the iPhone as an example.
Installing the TinEye bookmarklet
The easiest way to install the bookmarklet on your phone, is to add it to your PC/Mac bookmarks first, and then sync your bookmarks to your mobile device. Bear with me, you will only have to do this once!
Start at the TinEye bookmarklet page. Add the bookmarklet by right-clicking the grey 'TinEye Images' button and selecting 'Bookmark This Link' or 'Add to Favorites'. In Safari you can just drag the button into your bookmarks toolbar as below:

Here you can see that the bookmarklet has been successfully added to my browser's bookmarks. It shows up as 'TinEye images':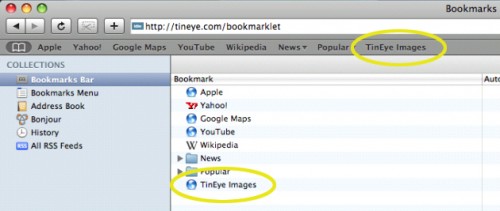 Now sync your PC/Mac bookmarks to your mobile device using the sync software for your smartphone. For the iPhone, this is easily done in iTunes from the 'Info' tab for your device. You may sync your bookmarks independently of other data (contacts, music, email, etc.).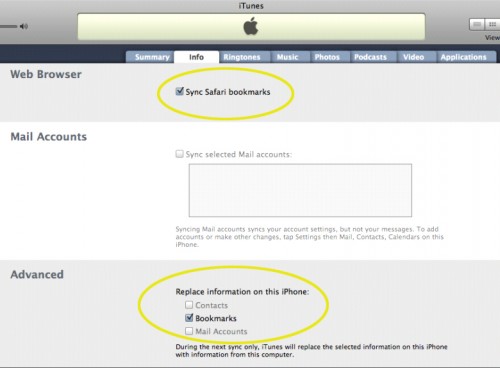 I've complete the sync, and the TinEye bookmarklet is now showing up in the Safari Bookmarks Bar on my iPhone. Success! Installation complete: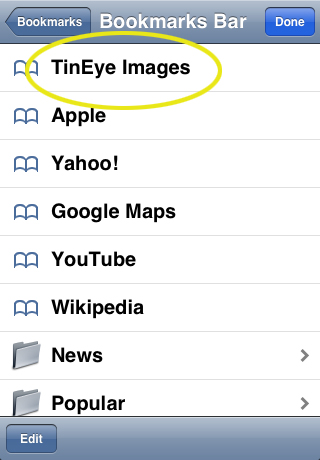 Using the TinEye bookmarklet
Now for the easy part. Using the TinEye bookmarklet is super-simple. Just browse over to a web page containing some images you would like to search. I'll use the Picasso entry on Wikipedia as an example: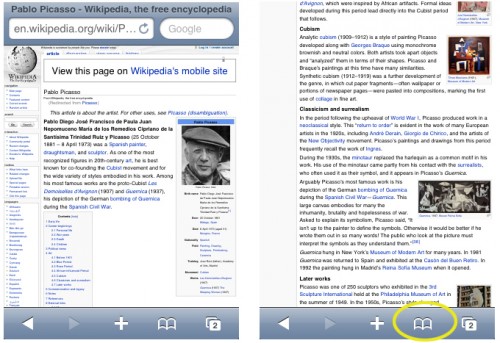 To search for any images on this page, just open up the bookmarks on your mobile device and select the TinEye Images bookmarklet. On the iPhone, your bookmarks are accessed using the icon circled in the screenshot above.
Once you select the TinEye images bookmarklet, all the images on the page you were just viewing will be scraped and sent to TinEye. To search for an image, just select the one you want and view your results:
Fun, no? Once you have your TinEye results you can sort them by size or closest match just as you normally would. See what sorts of interesting results you can find when you're on the go with TinEye!