With an updated index and some behind-the-scenes tweaks, TinEye is now better than ever at finding your images in our index of over a billion images.  And we just updated our TinEye Cool Searches, showcasing a new crowd of fun and interesting searches for you to explore.
This rather timely stressed out gas-pumper graphic is just one of the nifty searches we've included over on TinEye.com. Swing by the Cool Searches page to see the latest additions:

And from the vault of thousands of submitted searches from TinEye fans like you, here are some more Cool Searches that highlight TinEye's unique ability to locate your images online…
The YSL t-shirt search returns several product shots:
A search for this Obama t-shirt returned this interesting combination of images. As you can see, TinEye can still find the original image even when it has been skewed: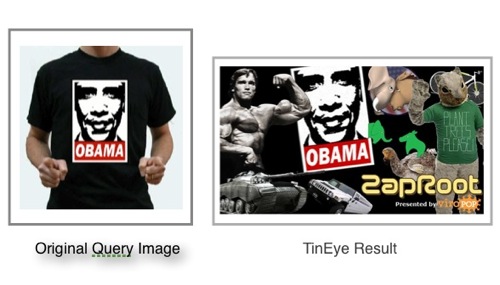 This dog just might be the busiest dog on the web. He is the Everywhere Girl of the animal kingdom! TinEye found him sharing the Tao of Happiness, cheering on Sox fans, talking about his food allergies and more. He also popped up in support of Barack Obama and John McCain, he's even keen on the fictitious Stewart – Colbert '08 election ticket. He is one confounded political pup. Check out his over 100 results from TinEye:
And lastly, one of our earlier test images was J. Howard Miller's "We Can Do It!", commonly referred to as Rosie the Riveter. With the updated index TinEye returns over 700 results for this American cultural icon including a snapshot of an original "We Can Do It!" wall thermometer and some rather amusing photoshop edits:
Discovered your own TinEye cool search? Remember, you can submit them to us for review and inclusion to our Cool Searches page by clicking the "Recommend as a Cool Search" link on your TinEye results page.