Hello folks! If you haven't noticed, things are looking quite different over at TinEye. We have been working on the redesign with the great folks over at silverorange, and we're sure they're just as excited about the launch as we are!
Aside from a whole new look, the navigation and layout of the site has changed.  And of course there is the addition of our new mascot! This robot-on-wheel will need a name soon… do I smell a contest?
Back to business. What exactly has changed? Well…
We've prettied-up the way results are displayed
The sort order is now clearly visible on the left side of your results, along with some easy ways to share your results with others. For image matches that appear on multiple domains, we've added a little orange count in the corner of the image thumbnail.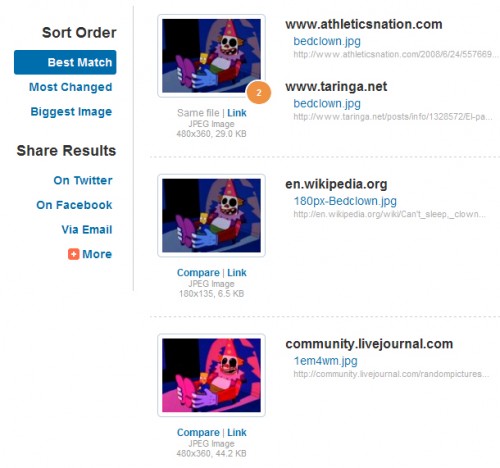 We've made it possible to share individual match results
Unlike the 'Share Results' column on the left side of the page which shares your entire set of search results, clicking 'Link' under an individual image match will allow you to view and share just that image match (anyone you share with will have the option to see the full set of results, as well). You have asked and we have delivered!

We remember what you were looking for
A small but important update! Now when you look for a web image, TinEye links back to that image in your search results so you don't have to keep another browser window/tab open.
We've introduced badges
Share the love! Embed one of our cool new badges on your website and help get the word out about TinEye.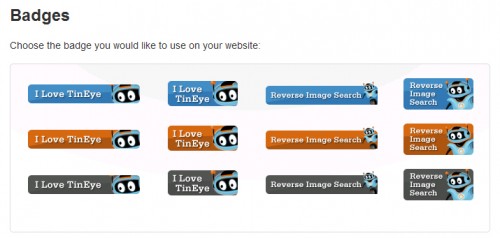 We've introduced content partner images

If you haven't heard already, TinEye is officially accepting image submissions from online contributors. We have added a form to contact us if you manage a large online image collection and would like to submit them to the TinEye index. We have already indexed iStockphoto, Photoshelter and Clustershot and we have some further announcements to make very shortly.
We have also started identifying our various content partners in your search results. This makes it even easier to attribute the original author or source of an image. Just click on the URL in the 'TinEye Contributor' box to get to the official page for that image on our contributors' website.
There's plenty more to see on our new website, so do hop on over and have a look. Better yet, say hi and tell us what you think, or drop by our Facebook page. In the meantime, we are going back to work on the next update!