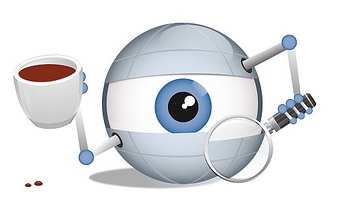 Our bon ami, branding and web designer Alistair Morton from Peapod Studios, sent us some very fun TinEye graphics and we just love them Alistair, you rock! As most of you know the Ideeplex is fond of robots (and candies).
This little TinEye and his mug of java is ready to go to work. Fits right in with the ideeplex crew: could not imagine starting a day without a great cup of coffee. I just wish he paid a bit more attention to his mug! What's with all the coffee spilling. This little robot is going to have to learn that compute clusters, keyboards and mega servers don't mix well with coffee.
That said: our adventures branding TinEye and coming up with a character we are going to fall in love with have just started. We want you to adore our little robot. To fall heads over heels over him. Send him fan mail and cookies. TinEye loves cookies. Chocolate cookies. Oh cookies…
Watching Alistair doodle and come up with creative little robots is fascinating. I, for one, have not a creative bone in my body. All I could do is draw polka dots! And only black and white ones at that. Sad, I know but… hey I make a mean chocolate cake and that should count for something.
Here is Alistair's latest doodle. I think that's what he calls them but we are amazed. TinEye is certainly enjoying all the attention he can get. This little boy is growing. He can't wait to tell us about the new bigger index that's coming up very very soon.