The winter has taken hold of our awesome city and for the 3 people in Toronto (including myself) who love the winter, this winter has delivered! But have you seen the wonderful Lovebots all over the city? Are they warming your hearts yet?
We have welcomed our own lovebot in the TinEye HQ and are super excited to find him a spot in front of the TinEye HQ building. That won't happen until spring though as it is a bit difficult right now to work outside. These wonderful concrete robot with their bright red hearts are telling the wonderful stories of people who helped make Toronto and the world a better place. Basically people who help make the world suck a little less – and you know how much we are proud of doing that in our awesome city!
Matthew Del Degan who is the artist and designer who created the Lovebots with his team has planted the seeds of a Love Invasion which aims to evoke a sense of wonder in the hearts and lives of people around the world, emanating from Lovebot's home city of Toronto. Matthew and his team have placed over a hundred hand-cast concrete Lovebots throughout the city of Toronto. The Lovebots started as a sticker, perhaps some of you have seen the bright robot stickers all over the city, but now these wonderful concrete robots are gracing awesome locations all over Toronto.
When Matthew and his team visited our TinEye HQ to deliver our Lovebot, he explained that his Love Invasion project was the first project created under The Sandbox Society Inc., that was initiated to encourage Torontonians to reflect on their surroundings and become thankful for the small, good deeds that constantly go unnoticed. His Lovebots are made from customized concrete molds and when completed they are over 200 pounds. We will be placing our Lovebot outside as soon as spring arrives in Toronto, so stay tuned for a follow up post. In the meantime, join us by starting 2014 by spreading love, happiness, compassion and kindness all around you.
Our TinEye Lovebot greats us everyday as we enter the TinEye HQ. He is patiently waiting for the weather to improve so as to get outside.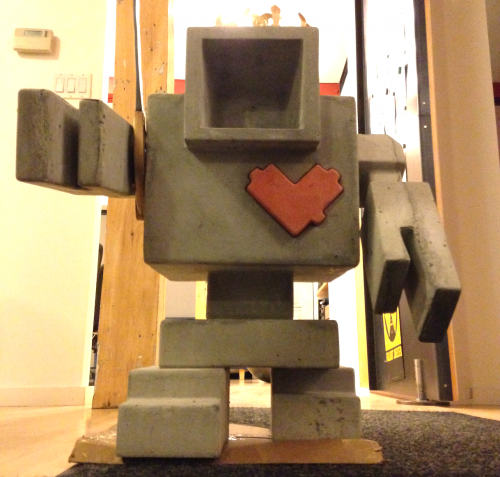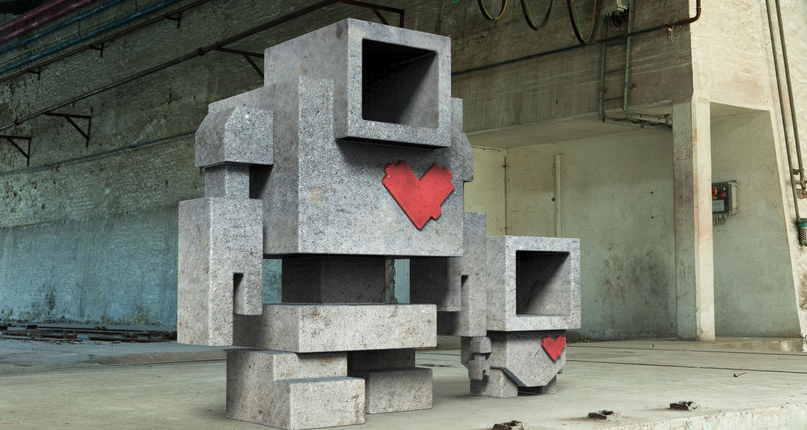 Love & Peace. And good times.